News & Announcements

Foods & Beverages

On board of the our yacht, the great cuisine of the Near East is maintained. Turkish recipes are a fascinating mixture of Asian and Mediterranean cooking with Persian influences. Turkish food is freshly prepared and beautifully presented by the chefs of our yacht which is not only healthy, but also very varied and tasty.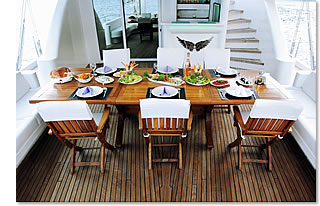 Meals are most delicious and authentic making dining aboard an experience to equal or even top the best restaurants ashore. Each day, something different is being cooked from the variety of the Turkish repertoire. Dining with a view in the shade of a canopy aboard of our yacht in secluded coves or in front of picturesque fishing villages make every meal a real feast for all senses. The Turkish kitchen is one the best in the world.

An abundance of fruit, vegetables and salad produce. Plus, almonds, olives and herbs are all grown locally and naturally. Also, a selection of seafood, meat, chicken, dairy produce and pastries. You will be amazed at the variety and resourcefulness of Turkish Cuisine.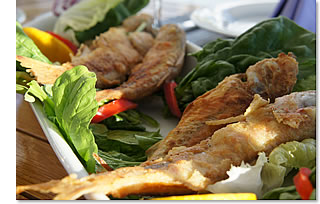 As a matter of course the chefs aboard our yacht will make every effort to accommodate any dietary restrictions, vegetarian, gluten free diet or allergies and to fulfill special menu requests according to personal preferences. Prior to embarkation we will send you our embarkation questionnaire where you may let us know your party's favorite foods to allow the chef to accommodate your tastes.

To avoid planning or what to but confliction or waste time you may benefit from experiments, special and traditional with extra daily expense. Foods are especially achieved peoples appreciation. There are 2 types of menus. In both case our chef would be responsible of cooking.

Our prices;
1st menu which includes foods & soft drinks; is 35 € (euro) daily for a person, excludes alcohol drinks.

2nd menu which includes foods & soft drinks & all local alcholed drinks; is 45 € (euro) daily for a person,

We can also considers your requests when preparing the menu.